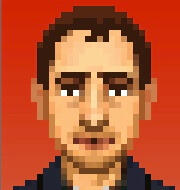 Nabeel Hyatt
"Toys are not really as innocent as they look. Toys and games are preludes to serious ideas." - Charles Eames
---
investor. founder. ceo. engineer. designer. soccer fan. game maker & player. geek.

I invest in early stage startups as a General Partner at Spark Capital. I do not focus on a single market, and have spent my whole career as a founder and investor on the edge of new markets studying how they come to be. I enjoy the craft of being of service to founders and their ideas as they try to make their dent in the universe.

The quote above from Charles Eames I've had around since I was in art school. It's a reminder for me that great ideas don't always come from likely sources, and we should try to nudge the world in the direction of creative risk & playful spirit if we want to continue to innovate to something better.
---
I don't attend many conferences, write lengthy think pieces, or promote like crazy. I like working with people closely, solving deep hard problems, and letting the score take care of itself. But I'm not trying to hide, so here is some of the digital exhaust I've left over the years.
🖋 Writing

2021 - Hybrid Offices
2021 - OKRs
2020 - Layoffs
2020 - San Francisco & Civic Engagement
2017 - What happens when self-driving happens
2015 - Insiders vs Outsiders
2014 - Pitching your current investors
2013 - Moneyball VC Won't Work
2013 - Startups are not a game of chess
🔈 Talking

2021 - Online Communities, Hardware, and Investing Frameworks
OnDeck Angels
2020 - Marketplaces with Sarah Tavel & Nabeel Hyatt
Venture Stories
2019 - The next billion dollar companies in frontier technology
LDV Vision Summit
2019 - 20Min VC: Investing Ahead of the Curve
20Minute VC
2016 - Interview on product-focused investing
Business Insider
🐶 Investments

2021 - Descript - The power of AI in Creativity
2020 - AllStripes - A Community for Cures
2019 - Instawork
2017 - Zum
2017 - Capella - A World of Information & SAR Deep Dive
2016 - Sonder - Re-inventing the hotel
2016 - Discord - How Discord Evolves
2016 - Proletariat
2015 - Cruise - The hard things, the hard way
2015 - Postmates - Unlocking the city & Thank you Postmates
2015 - North (Thalmic Labs) - It Takes Time

Startups where we led a round and I serve on the board are listed, all were early stage investments.